About Us
Here at Bare Bones we offer a wide range of quality products to keep your pet in tip top shape, allowing you freedom to focus on the fun side of things in the knowledge that your pet has everything it needs for a fulfilled and happy life.
We are a family run business and we believe you get out what you put in. With this in mind we have carefully chosen premium brands, and natural, high-grade foods and treats, to ensure you can confidently choose products that are healthy, hard wearing and stand the test of time for even the most active pet.
Its important to us to be respectful of our environment and we look for products which support this ethos. Many of these are made from recyclable materials and can be recycled at the end of their usefulness to reduce waste. In addition we choose items which have been tried and tested, many of which are backed by lifetime warranties and guarantees to make sure you get the best value for your money. Where possible we reuse any packaging which we receive and minimise our use of plastics in an effort to be greener.
We are always happy to help and hope you find what you are looking for.
Meet The Pack
Bare Bones is run by three Bearded Collies. We are Dixi, Loghan and Lacey and have assistance from our two humans, Lisa and Angie.
Being Beardies we have lots of energy and like to be busy and active but we are also clever and sensitive too. Living in the Perthshire countryside we love the outdoors and have inspired our humans to find lots of things to keep us healthy, happy and challenged, which we are desperate to share with you.
Dixi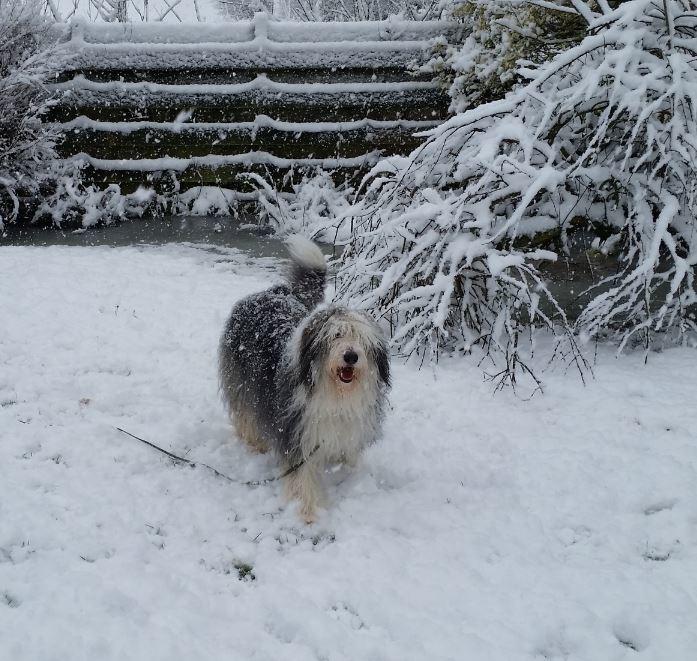 Hello I'm Dixi. I'm a bit of a scaredy at heart. I have always been a bit of an anxious dog, even from a puppy, but I am not sure why. I don't often join in with my sisters games as I'm not sure if I should in case I knock something over and give myself a fright. I do like to watch from a distance though to make sure they behave and my favourite thing to do is lie in the garden and keep watch for anything exciting. I love one-to-one attention and really like training time as I have lightning fast responses if my reward is a treat. I also love treat puzzles that make me think. I am the buster cube master! I do enjoy a good groom at night as I have a very thick coat so my job is to test out the brushes and sprays to keep my hair nice and tidy. I don't really like new places much as I look for all the scary dangers but I do enjoy people visiting me or a nice trip in the car. The one time I really chill is when it snows and I can run about and make snowball feet without a care and let my hair down. That's one of the good things about living in the Scottish hills.
Loghan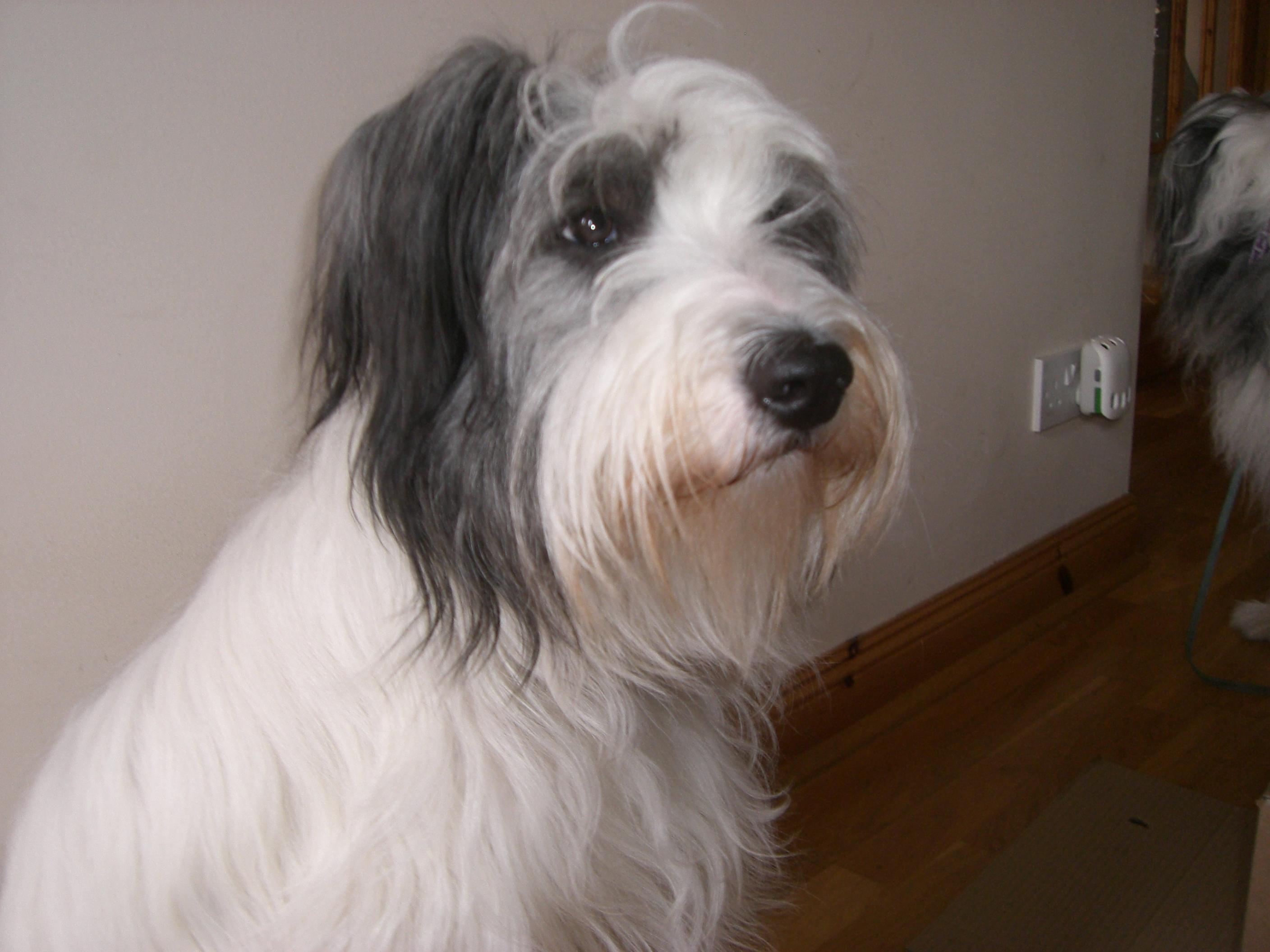 Hiya, my name is Loghan. My people tell me I'm really bouncy but I'm always smiling. I love to have a job to do and I'm always ready to jump into action should it be time to play. My first favourite thing is a toy, any toy, squeaky toys, soft toys, balls, I don't care. If my reward is a toy I always work hard and love to please. I love living in the country as I enjoy walking and also enjoy a chase of Fergus (the pheasant who visits the garden each day). One of my favourite things to do at work is a stock check because that's the best time to eye up my next toy to test. When I was a pup I had a very sore tummy and tried lots of different foods and treats, but kept getting thinner. I hated meal times. Not now though, it's my second favourite time of the day and I now have the job of tasting all the lovely natural treats. Since my sister arrived I have turned into a bit of a mummy and try to help teach Lacey manners and look out for her. We are both very cuddly so just as well we have two humans to give us each cuddles at the same time.
Lacey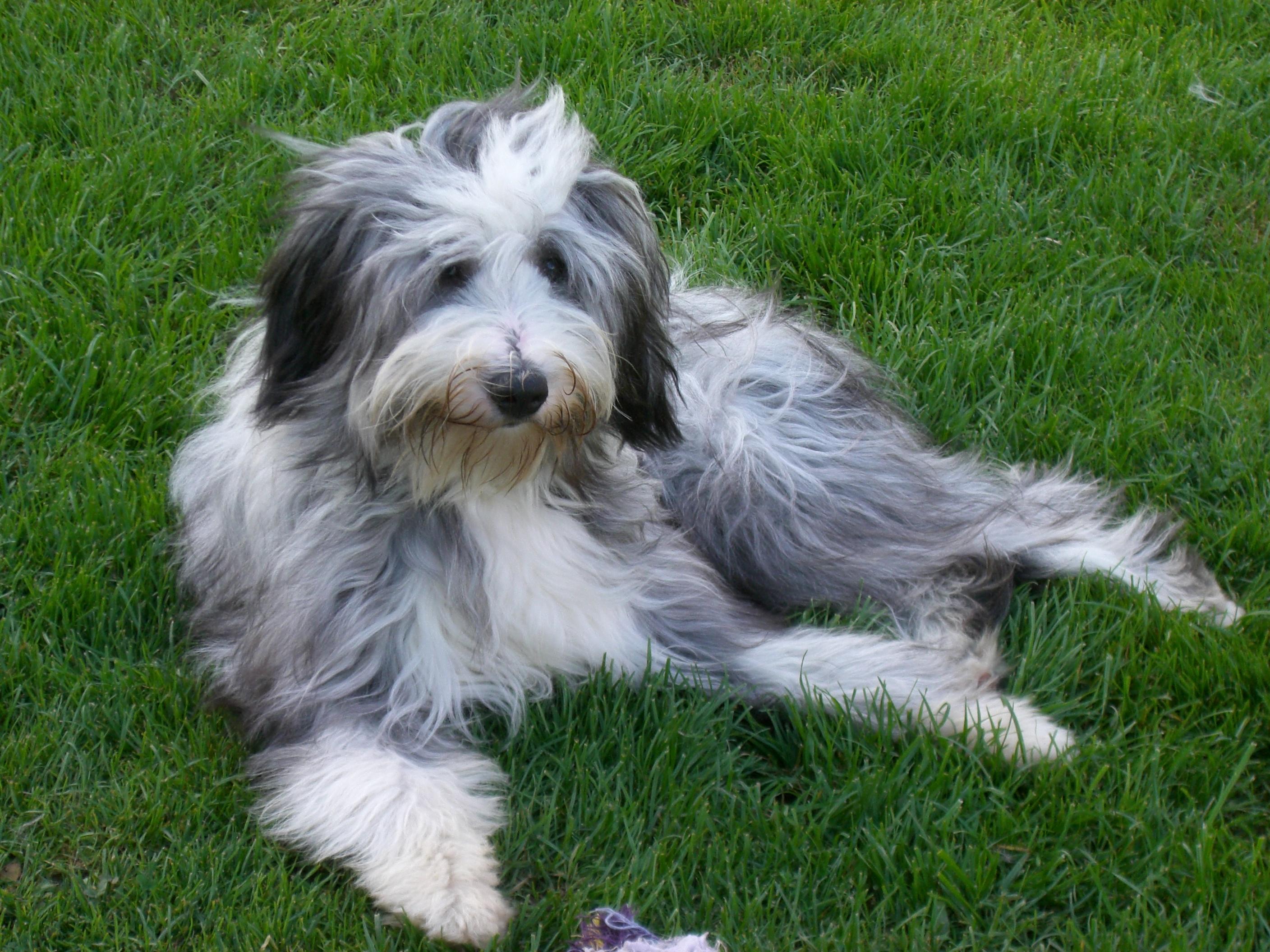 Howdy! My name is Lacey the fearless adventure pup. I'm the newest addition to the pack and "full of beans" apparently! I love to explore anything new and find exciting things to keep me busy. I love to climb anything so I can get a better view and also like to jump off, the higher the better. When I grow up I would like to follow in my sister Loghan's footsteps and enjoy agility. I love, love, love my sister Loghan as she plays with me all day long and is a trusty companion to take along on my adventures, plus she makes a pretty soft cushion to rest on after a busy day exploring. Like Loghan, I love my toys but I like to put them through their paces (well someone has to). I am the resident tough toy tester but also enjoy a good treat. As I seem to find mud and dirt I also get the job of testing the coats and outdoor gear, and the shampoo!
Our independent advisers
Uncle Tyson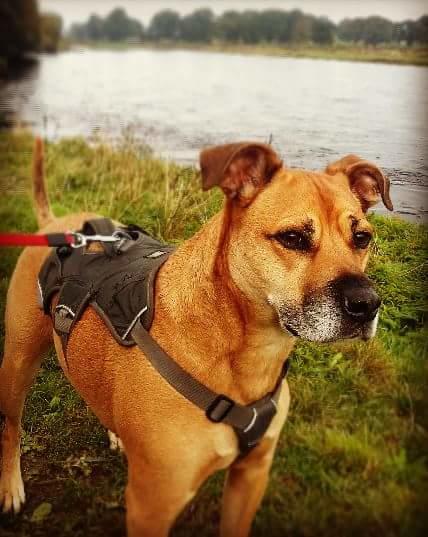 This is Uncle Tyson, muscles by name, muscles by nature. Since joining us as a rescue dog he has proved to be a valuable member of the team. Unlike us, Tyson's favourite thing is sleeping. He could sleep for Britain so we ask him to test out our beds to see that they make the grade. The only disadvantage to Tyson's love of a good nap is that it makes him the world's worst guard dog. When we go to visit, we can all be in the house and he doesn't even notice. His strong muscles make him great for testing our leads and harnesses and his big teeth for trying out our toys and treats. Dangle a treat and that's when you see a bit of excitement in Uncle Tyson. The rest of the time he's one chilled out guy!
Best Buds Harley and Mack

We all enjoy a visit to see our pals Harley and Mack and occasionally rope them in for a second opinion if we can't choose our favourite things. Harley is the king of water and puts our floating toys and waterproof gear to the test cause it takes us so long to dry out. He also loves his food so if he doesn't like it we wouldn't sell it. Mack enjoys a good trail in the woods and a regular game of fetch so we like his opinion on our hiking gear and throw toys.